Music, Family-friendly, Dance
Multicultural Ceilidh
Go Local (Highland)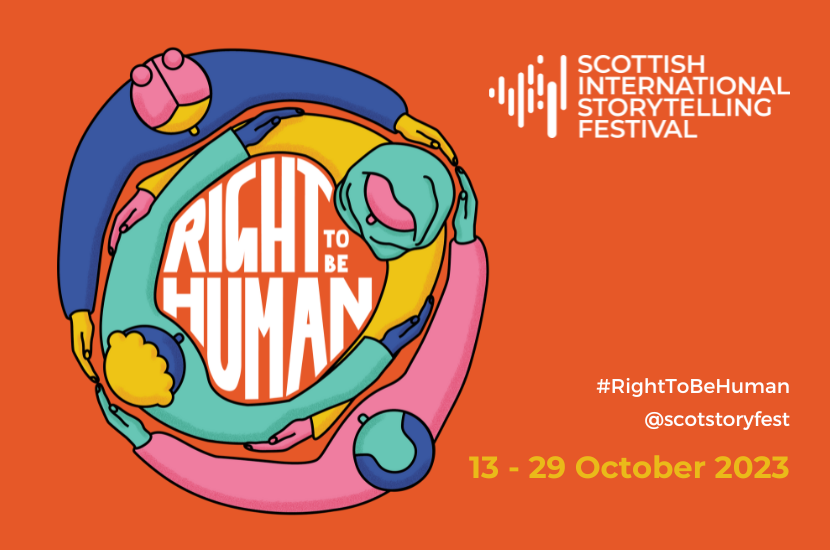 (Sat 25 Nov: 3pm)
Storyteller Lizzie McDougall invites you to a multicultural and family-friendly ceilidh of stories, songs and music, with tea and scones. A lively afternoon to celebrate traditional stories and music from Scotland and distant lands, with contributions from international musicians living in the Highlands.
At Victoria Diamond Jubilee Hall, Hermitage St IV16 9YG.
~~~~~
Autumn is for cosy story gatherings and you don't need to travel far to be a part of them. Discover a rich programme of local storytelling events, from the southwest to the very north of Scotland with the Scottish International Storytelling Festival 2023 and local partners.
~~~~~~~~~~
Join us as we explore, question and celebrate the Right To Be Human. This year, on the 75th anniversary of the Universal Declaration of Human Rights, we consider the many challenges we face, from human health and wellbeing to the health and future of our planet. However, there is also a worldwide movement to meet these challenges, and to exist imaginatively, fairly and in community with the whole diversity of life. Storytelling has embraced these values from the dawn of culture and stories today can help us be more connected to the world around us, as well as our rights, showing us how to be more alive and creative as humans.
---
Booking Information
Tickets by donation. Info: Lizzie McDougall lizzie.mcdougall@gmail.com.
---