Music, Storytelling
Northern Treasures: The Sun's Ring
Collective Treasures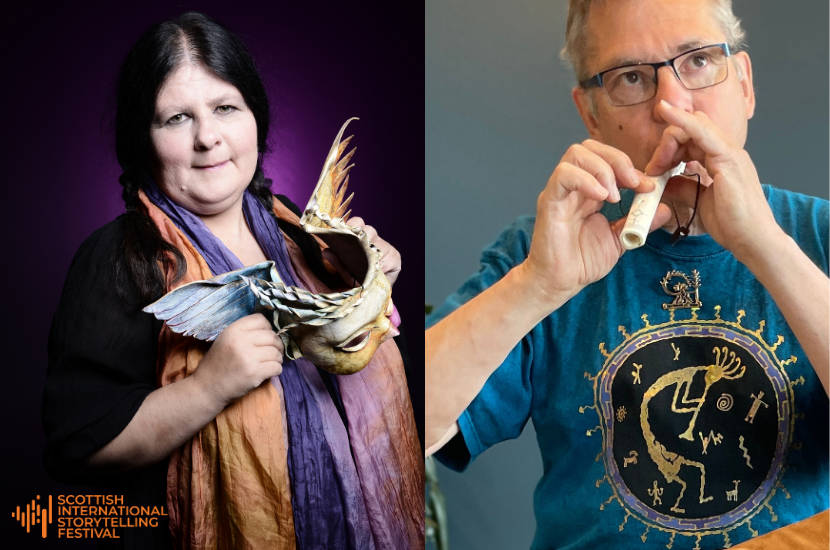 (Sat 28 Oct: 6pm)
Join Sami storyteller Stina Fagertun and musician Øistein Hanssen for a journey through the 8 seasons of the Sami people on a quest to find the magic ring before it is too late. Enjoy unique Arctic stories and music as they share the deep roots of this northern lifestyle, the threats it faces, and its ongoing struggle to survive and adapt.
~~~~~~~~~~
Storytelling is a store of collective memories, experiences and values. Relax, and delve into those Collective Treasures in the genial company of the festival's storytellers, as they celebrate our common humanity.
~~~~~~~~~~
Join us as we explore, question and celebrate the Right To Be Human. This year, on the 75th anniversary of the Universal Declaration of Human Rights, we consider the many challenges we face, from human health and wellbeing to the health and future of our planet. However, there is also a worldwide movement to meet these challenges, and to exist imaginatively, fairly and in community with the whole diversity of life. Storytelling has embraced these values from the dawn of culture and stories today can help us be more connected to the world around us, as well as our rights, showing us how to be more alive and creative as humans.
~~~~~~~~~~
Purchase a Storytelling Festival Pass and make the most of SISF 2023!
Buy A Pass
---
Booking Information
A booking fee of £1.25 is charged per transaction for online and phone bookings. If you are a Festival Pass holder or a Storytelling Centre Supporter please add a full price ticket to the basket. Your discount will be automatically added at checkout.
---