Exhibition, Mental Health, SMHAF
Exhibition: TALK.
by Graham Williams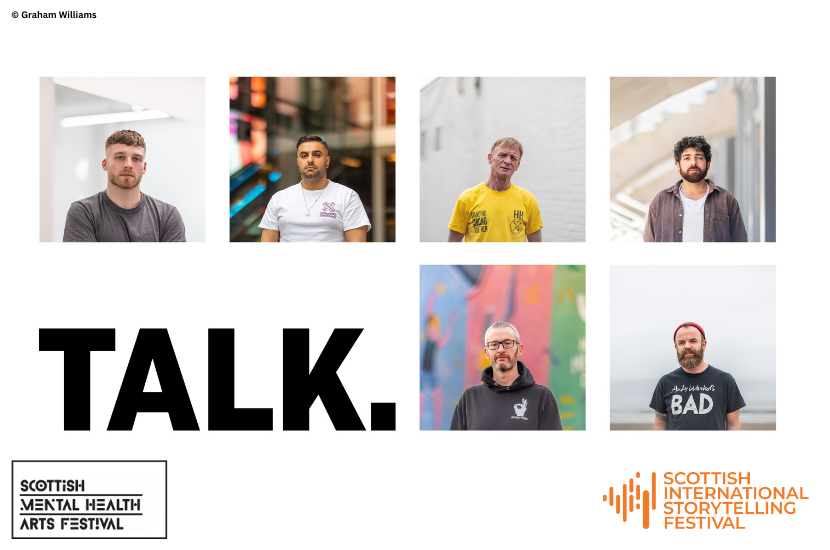 (Sat 7 - Sun 29 Oct)
TALK. is an ongoing portraiture project by Edinburgh-based photographer Graham Williams exploring the subject of men's mental health, where the portraits are made after a conversation between photographer and sitter about their own experiences. The project aims to start a wider conversation about a subject which is still relatively under-discussed and to encourage anyone who may be struggling to reach out for help. It's time to TALK.
Website: Talk Portraits
Part of the Scottish Mental Health Arts Festival 2023.
~~~~~~~~~~
Join us as we explore, question and celebrate the Right To Be Human. This year, on the 75th anniversary of the Universal Declaration of Human Rights, we consider the many challenges we face, from human health and wellbeing to the health and future of our planet. However, there is also a worldwide movement to meet these challenges, and to exist imaginatively, fairly and in community with the whole diversity of life. Storytelling has embraced these values from the dawn of culture and stories today can help us be more connected to the world around us, as well as our rights, showing us how to be more alive and creative as humans.
~~~~~~~~~~
Purchase a Storytelling Festival Pass and make the most of SISF 2023!
Buy A Pass
---
Booking Information
The exhibition is free and non-ticketed. The exhibition space is sometimes used for events so you may wish to call ahead to confirm it will be accessible for your visit. You can contact Reception on 0131 556 9759 or reception@scottishstorytellingcentre.com
---