Online, Live Webinar
Global Lab: The Earth Stories Collection
with Grian Cutanda, Donald Smith & Earth Tellers Network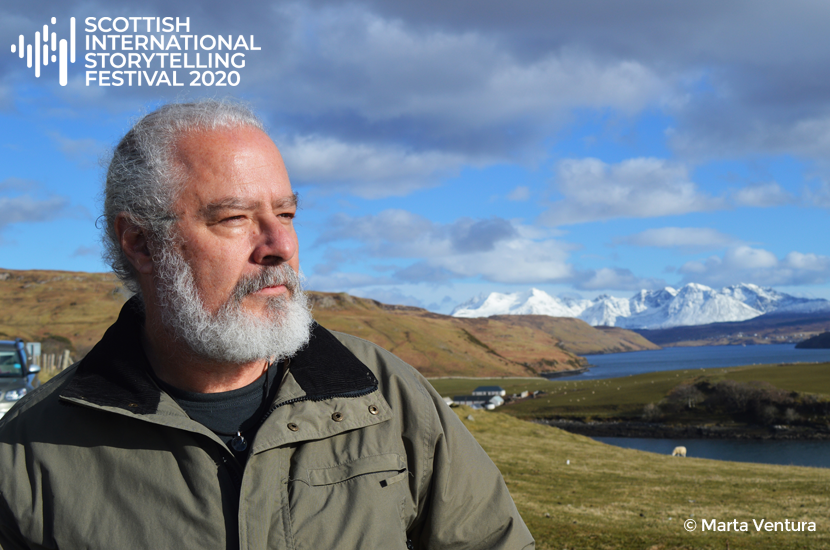 As humanity faces an ecological, social, economic and cultural storm, storytellers and communities worldwide are sourcing stories that offer healing and hope. Global Lab offers inspiring examples of creative practice in the arts, education and frontline activism, with the opportunity to share, question and dialogue.
The Earth Stories Collection
This workshop opens a window onto the international effort to disseminate and learn from indigenous traditions, in the face of environmental crisis. Grian Cutanda is a researcher, educator, psychologist and author of 15 books. A social and environmental activist, he has been involved in the organisation of the People's Climate March (Edinburgh, 2014) and in the creation of Extinction Rebellion in Spain and Mexico. Along with his wife Marta Ventura, Grian is also the founder of the Avalon Project - Initiative for a Culture of Peace, and of The Earth Stories Collection, a bank of traditional stories from all over the world.
Donald Smith is Director of the SISF, a community gardens activist, and co-founder of Earth Story Tellers.
Daily Programme
1.30pm: Welcome, Introductions and Presentation
2.30pm: Break
2.45pm: Workshop Sharing and Discussion
4.30pm: End
---
How to Book:
This event is on a Pay What You Can model. Please select from the three available options below.
The event will be held on Zoom. During the event all attendees will be on screen and able to communicate via the chat function, or via their video screens.
If you have booked a ticket you will receive an Event Reminder email before start of the performance with your log in details.
---
A booking fee of £1 is charged per transaction for online and phone bookings. No booking fee is applied to tickets purchased in person from the Scottish Storytelling Centre Box Office.