Gaelic, Live Webinar, Online
Global Lab: Tobar an Dualchais | Well of Stories
with Martainn Mac An T-Saoir | Martin MacIntyre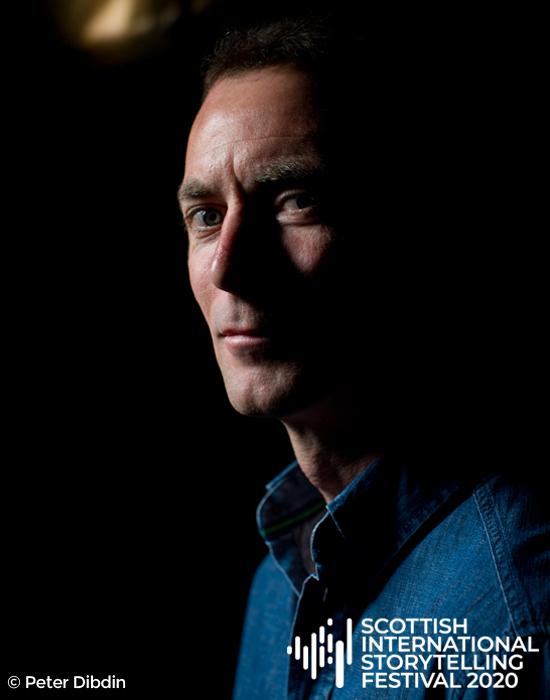 This webinar will be presented in Gaelic
As humanity faces an ecological, social, economic and cultural storm, storytellers and communities worldwide are sourcing stories that offer healing and hope. Global Lab offers inspiring examples of creative practice in the arts, education and frontline activism, with the opportunity to share, question and dialogue.
Tobar an Dualchais
Tha spèis air a bhith aig Màrtainn Mac an t-Saoir dha na sgeulachdan fad bhliadhnachan is mar a bheir iad daoine cruinn is a bheir iad ioma seòrsa buannachd dhaibh. Bidh e ag innse feadhainn na Fèinne cho math ri feadhainn eile a bhuineas do dh' eachdraidh nan Gàidheal is gu leòr eile às àiteachan eile is mu bheatha dhaoine san latha an-diugh. Bheir iad ort gàire a dhèanamh no a bhith air bhioran no caoineadh. Bidh Màrtainn cuideachd a' gabhail òran on dualchas is chì e iad-sin is stòiridhean is ceòl is bàrdachd a bhith nam pàirtean dhen aon chèilidh – dhen aon fhearas-cuideachd fhallain bhlàth. B' e Màrtainn a' chiad cho-òrdanaiche a bh' air Tobar an Dualchais / Kist of Riches is's e fìor adhbhar moit a th' ann dha na chuir na sgiobaidhean a lean fo dhìon is an tairgse an t-sluaigh de ghuthan prìseil ar sìnnsearan.
Well of Stories
Martin MacIntyre has always respected the power of oral narrative to forge stronger connections between people and to achieve artistic and therapeutic results. His stories include Ossianic wonder tales, those based on the historical traditions of the Scottish Highlands and further afield and also modern stories of adventure, love and humor.
A fluent Gaelic speaker, Martin sings traditionally and sees storytelling as an integral component of the holistic ceilidh, which naturally includes stories, song, music and poetry, to which all can contribute. Martin was the first coordinator of the Sabhal Mòr Ostaig led Tobar an Dualchais / Kist of Riches project, which has now digitised and made on-line accessible thousands of hours of oral material in Gaelic, Scots and English from the archives of the School of Scottish Studies, University of Edinburgh; BBC Alba and The National Trust for Scotland Canna Collections.
Daily Programme
1.30pm: Welcome, Introductions and Presentation
2.30pm: Break
2.45pm: Workshop Sharing and Discussion
4.30pm: End
Sa chiad phàirt dhen tachartas, le bhith a' toirt iomradh air is a' cluich cuid a chlàraidhean a tha ri lorg air TanD/KoS, seallaidh Màrtainn mar a thug an stuth prìseil seo buaidh phearsanta air is a neartaich iad a cheanglaichean ri a theaghlach fhèin is Uibhist a Deas is mar a dhùisg iad a mhacmeanmna ann a bhith a' cruthachadh leithid ficsean; bàrdachd is eile. Cuideachd seallaidh e mar a thug iad brosnachadh dha a-thaobh a bhith ag innse sgeulachdan à beul-aithris na dhòigh fhein do luchd-èisteachd an latha an-diugh.
San dàrna pàirt bhiodh e sgoinneil nam b' urrainn do dhaoine - a tha deònach - seudan às an tasglann a tha cudromach no sònraichte dhabh, air adhbhar sam bith, a chur far comhair airson ar toileachasis is an còmhradh a leudachadh mun ioma buannachd a tha an cois TanD/KoR.
During the first part of the workshop, Martin will introduce and play some of his favourite archive recordings from the Tobar an Dualchais website and discuss how these recordings have had an impact on him personally and strengthened his ties with his own family and South Uist and how they have encouraged him to create fiction, poetry and more. He will also touch on how the recordings have encouraged him to tell stories from the Gaelic oral tradition in his own style to audiences today.
In the second part of the workshop, there will be an opportunity for anybody who is willing to share archive recordings from the Tobar an Dualchais website which are important or special to them. This will lead to a discussion on the many benefits that come from engaging with the wealth of material on the Tobar an Dualchais website.
---
How to Book:
This event is on a Pay What You Can model. Please select from the three available options below.
The event will be held on Zoom. During the event all attendees will be on screen and able to communicate via the chat function, or via their video screens.
If you have booked a ticket you will receive an Event Reminder email before start of the performance with your log in details.
---
A booking fee of £1 is charged per transaction for online and phone bookings. No booking fee is applied to tickets purchased in person from the Scottish Storytelling Centre Box Office.
This webinar will be in Gaelic.