Pre-recorded, Online
Tour to the Hebrides
by Andy Cannon, Christoper Craig & Donald Smith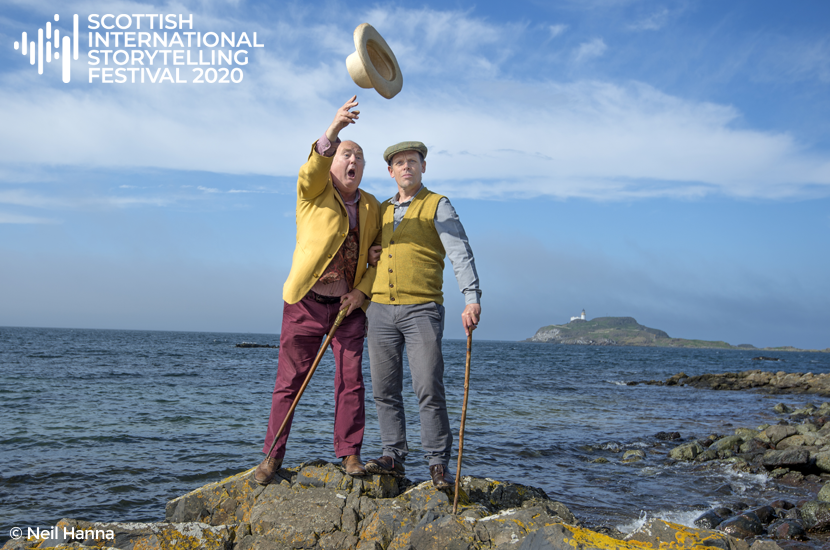 All aboard with Sam and Bozzie - alias storytellers Andy Cannon and Christopher Craig - for Boswell and Johnson's infamous trip across Scotland to Iona. It's English bulldog versus Scots terrier, and they are both writing their version. And why won't someone set up a reliable system of ferries? The intrepid duo hit all the highs and plumb the lows of travelling in the same boat.
Devised by Donald Smith.
Performed by Andy Cannon and Christopher Craig. Filmed at the Scottish Storytelling Centre and on location in the Hebrides.
Part of the Voyage series - A Nation Shaped by the Sea
Over centuries, real and imaginary voyages have connected Scotland to other coastal countries, near and far. Some of the story treasures that arrived and departed with them are now presented in this special series of traditional storytelling events celebrating Scotland as a nation shaped by the sea. Specially developed for the SISF 2020 by Scottish based storytellers and musicians, the performances are presented as live from the Netherbow Theatre, at the Scottish Storytelling Centre or on location where the stories are set. Experience some of Scotland's best storytellers and musicians in the flow as they shape these incredible tales.
---
This event is hosted on Crowdcast.
We are using Crowdcast to broadcast the SISF Voyages. We have chosen this as the platform lets us broadcast to a large audience and take questions through the chat feature.

Please use the 'Book your Ticket' button below to register for this event. You will be directed to a registration page on Crowdcast's website where you can click to save your spot.

Crowdcast will send you an email immediately with a link for you to confirm your registration. About ten minutes before the event, Crowdcast will send you a reminder with a link to join the event.

Book Your Ticket

You will be able to donate via Crowdcast during the performance.
---