Online pre-recorded, Storytelling
Imagine Online
Online Festival Pass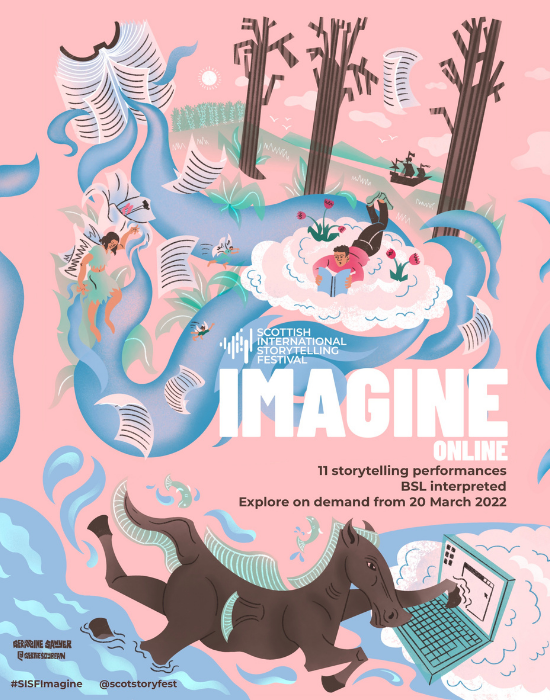 The Scottish International Storytelling Festival is delighted to present Imagine Online, a collection of 11 world-class storytelling performances available on-demand from Sunday 20th March, which is World Storytelling Day.
Specially commissioned for SISF 2021 these stories challenge us to imagine something different, to imagine pasts, futures, or a timeless other. You are invited to dip into dreams and desires, old and new, lost worlds and worlds still to become.
All 11 performances are available on demand by purchasing a Pass below.
Imagine Online
Cottongrass ~ Far to the North, an Elk watches over a Princess. This tale lies in the community of stories between our waking and sleeping mind, our hopes and fears, our imaginings and questions. Harriet Grindley and Maria MacDonell, with musician Kai Dudley use words, music, image and physicality to conjure a constellation of dreams from a momentous journey of life.
From Floor Sweeper to Climate Pioneer ~ Discover James Croll, the Scottish janitor born into poverty and dogged by ill health who became the self-taught father of climate science. Nicola Wright presents Croll's theories - which inform today's study of climate change - and tells the story of his remarkable life to a family audience.
Handing On ~ Mother and daughter Jean and Amanda Edmiston, storytellers, artists and plant people come together to share a new performance offering a magical glimpse into a multidimensional project of curating familiar family objects and inspiring stories that create real value beyond the clamour of gold! With video footage by Bash Art Creative.
John Muir and the Missionary's Dog ~ Join Richard Medrington and Rick Conte from 'The Man Who Planted Trees' and storyteller Andy Cannon, on the trail of the legendary John Muir. We follow Muir from a window ledge in Dunbar to the brink of a crevasse in Alaska to find out what connects this conservation pioneer, a remarkable dog and an indigenous tribe clinging on to their culture and their land.
Ladies Who Like It ~ Humorous, inspiring and informative contemporary collected tales about sex, presented for the wellbeing and inspiration of other women, and for those who care about them. Performed by Marie Louise Cochrane and Heidi Docherty, with musical accompaniment from Suzanne Fivey.
Mohan: A Partition Story ~ A moving, visceral and emotive storytelling performance by Niall Moorjani, which retells their Grampa's experiences of the Partitioning of India 75 years ago this year. With accompanying live music from Sodhi.
Off the Map ~ Tales of amazing women, real and imagined, retold in words by Áine King with music by Karen Tweed and Jennifer Wrigley. A shoal of stories, sometimes dark and often magical, storm-tossed from Orkney's ancient shores across the Atlantic, splashing off the map into dreams… and drifting back again on the returning tide.
Oracles ~ Millennial woman, Sarah Grant, struggles to live up to the legacy of her Grandmother, the "Oracle of Glasgow": she who sees all, hears all, tells all. How can the lessons learned at our ancestors' knees survive in the digital world? Oracles is a story about family, legacy, womanhood and traditional storytelling, grounded in a mix of traditional storytelling and spoken word.
Spàrr | Rivet ~ Recorded in a blacksmith's workspace in Stornoway, some excellent artists come together to present an extended story based on several traditions from the Isle of Lewis and the oral history of Govan. A collaborative performance devised by storyteller Ian Stephen alongside Laura Cameron Lewis, Anna Murray and Mike Vass, with illustrations by Christine Morrison.
What Language Do Mermaids Speak? ~ Imagine the scene – a North-East fisherman encounters a mermaid. What will happen? How will they react? Will these two, from very different worlds, find a way to communicate? Ailsa Dixon (English), Khloud Ereksousi (Arabic), Craig McCulloch (BSL), Jackie Ross (Doric) and Alex Thomson (Visuals) retell the family story of Fittie's Purse, in multiple languages.
Wolf Girl ~ Storyteller Daiva Ivanauskaitė and singer Agnė Čepaitytė present the true story of Ingrid Ramm from Königsberg, a city that no longer exists. After WWII thousands of orphans from East Prussia travelled to Lithuania in search of food and shelter. These children are known as Wolfskinder. This storytelling performance combines fragile memories, fantastic tales and classical German songs – the ones Ingrid's mother used to sing.
Watch a clip of what to expect here
---
A booking fee of £1.25 is charged per transaction for online and phone bookings.
---
Booking Information
The Online Festival Pass costs £10. If you would like to watch the films but cannot afford the price please contact reception@scottishstorytellingcentre.com as a small number of Passes are available for free without proof of income required. If you would like to donate more than £10 please do so at the Checkout stage. The films will be available online from Sun 20 Mar - Sun 8 May.
---