Gaelic, Pre-recorded, Online
TUATH: Songs of the Northlands
by Brian Ó hEadhra and Fiona Mackenzie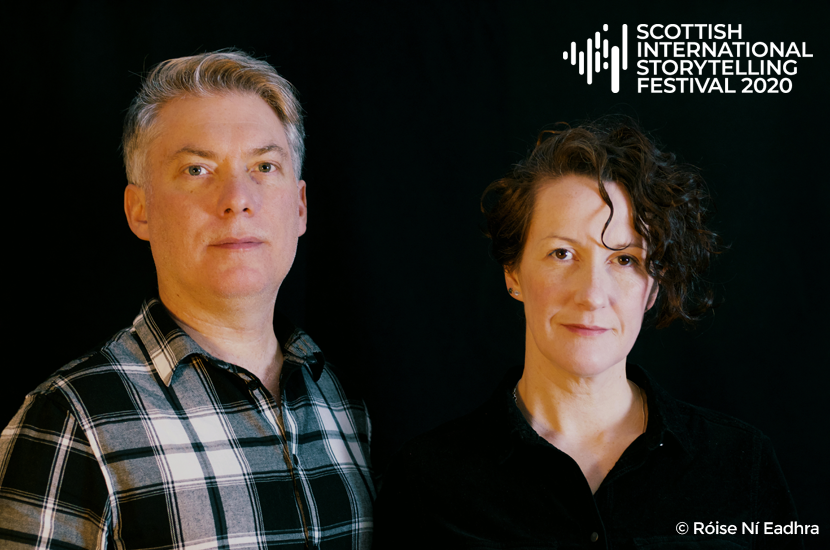 Highland based duo, Brian Ó hEadhra and Fiona Mackenzie, present an intimate show featuring songs from their acclaimed, recently released albums TÌR - Highland Life & Lore and TUATH - Songs of the Northlands. TÌR explores traditional and contemporary life and stories from the Highlands of Scotland. TUATH is a musical and cultural exploration of the connections between the Gaels and our nearest Atlantic neighbours.
The duo will provide introductions and read translations of the songs, which are mostly in Scottish Gaelic, but also in Irish Gaelic, English and Norwegian. A show not to be missed!
Filmed at the Scottish Storytelling Centre.
---
Bidh Brian Ó hEadhra agus Fiona NicCoinnich a' taisbeanadh òrain às na clàraidhean as ùr aca TÌR – Highland Life & Lore agus TUATH – Songs of the Northlands anns a' chonsairt sònraichte seo. Tha TÌR a' coimhead air dòigheanbeatha traidiseanta agus dòighean-beatha san latha an-diugh is a' gabhail a-steach sgeulachdan às a' Ghàidhealtachd. 's e rùrachadh ceòlmhòr is cultarail a th' ann an TUATHA a tha a' sealltainn air na ceanglaichean eadar na Gàidheil is na nabaidhean as fhaisge oirnn anns a' Chuan Siar. Bheir an dithis seachad ro-ràdh do na h-òrain le eadar-theangachaidhean, 's ann anns a' Ghàidhlig a tha a' mhòr-chuid de na h-òrain ach tha cuideachd òrain ann an Gaeilge, Beurla agus Nirribhis. Nach call an cothrom seo fhaicinn!
Air a chlàradh ann an talla-cluiche na Scottish Storytelling Centre.
Part of the Voyage series - A Nation Shaped by the Sea
Over centuries, real and imaginary voyages have connected Scotland to other coastal countries, near and far. Some of the story treasures that arrived and departed with them are now presented in this special series of traditional storytelling events celebrating Scotland as a nation shaped by the sea. Specially developed for the SISF 2020 by Scottish based storytellers and musicians, the performances are presented as live from the Netherbow Theatre, at the Scottish Storytelling Centre or on location where the stories are set. Experience some of Scotland's best storytellers and musicians in the flow as they shape these incredible tales.
---
This event is hosted on Crowdcast.
We are using Crowdcast to broadcast the SISF Voyages. We have chosen this as the platform lets us broadcast to a large audience and take questions through the chat feature.

Please use the 'Book your Ticket' button below to register for this event. You will be directed to a registration page on Crowdcast's website where you can click to save your spot.

Crowdcast will send you an email immediately with a link for you to confirm your registration. About ten minutes before the event, Crowdcast will send you a reminder with a link to join the event.

Book Your Ticket

You will be able to donate via Crowdcast during the performance. All Voyages will be available to stream from the time of premier until the 13 Nov.
---